Today – September 1, 2016 – there will be an unusual Solar Eclipse when (out of nowhere) the moon's shadow will overlap the sun, darken the day, until a thin rind of glowing light appears. The rind that illuminates the moon's edges will then slowly widen until the shadow entirely passes across it, seen no more. An ordinary day will return. Today's eclipse will last 7 minutes and 31 seconds, longer than most others, but still an eternity considering that the moon's shadow will be (I've read) moving at more than 2,000 mph across the Earth.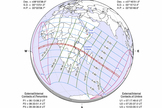 Many of us won't be able to see the glowing rings since "..the ring effect will be visible only from a narrow band that cuts across the Atlantic Ocean, south-central Africa, parts of Madagascar, Reunion and the southern Indian Ocean. Most of Africa will be treated to a partial eclipse, as will parts of the Arabian Peninsula and slivers of Indonesia and Western Australia." Unfortunate. 
September 1 is also the birthday of Stephen Handwork Gold, my former husband, the father of my son. Because bewilderment, immaturity and stupidity swamped our disastrous marriage, my son was deprived of his father who was a tall, good-looking, generous man with curly light brown hair; a man who meant well and had yearned to know his son. Looking back, I don't regret the divorce, but do regret that efforts weren't made to separate acrimony from fatherhood.
Not very long after the divorce, under that cloud of bitterness, we lost track of each other. Many years later my husband's aunt located my son (who carried her name), and we learned his whereabouts. Unhappily, before a path could be cleared for star-crossed father and son to finally cross paths, the father died. He died in his early fifties of unknown causes near to where we had initially met in Mexico. Awful and sad.
The entire saga was a private eclipse that darkened both our lives and the frame froze. Had there'd been a bit of maturity and ballast, the darkness might have run its course and a glow of illumination might have replaced it. The two men share physical traits, sense of humor, and other admirable attributes. Though maturity and ballast came too late, it has come and bitterness is no more. Late as it is, it's not too late to mark Stephen's birthday today with a memorial candle,
a cake,
a kiss blown into the galaxies.